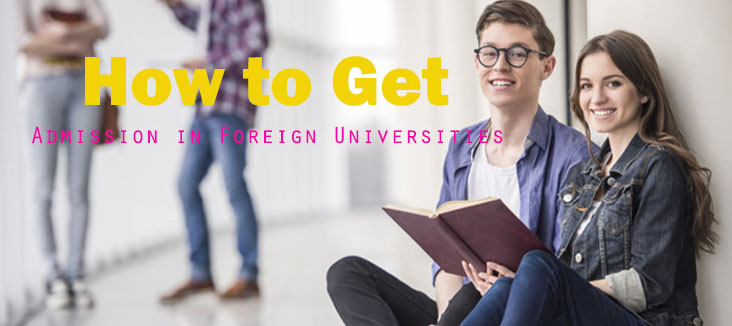 You have made the final decision to study at a foreign university. Now you need to research for the right university and apply for it.
You don't need to stress as we have summarized steps of getting admission to the foreign university.
Applying to a foreign university, whether it is the UK, USA, China, Germany, etc., is easy, and you don't need to stress yourself
The application process for university admission differs from country to country, and there is no precise formula for getting admission in your desired college. However, the below-mentioned points are some general rules that should be followed to get access to your desired college.
Are you afraid to begin and unaware of how to do it? Find the steps below to get guidance.
Choose your course

- Choose the area of study you're interested in pursuing. Also, decide where you want to study. Consider your career prospects and opt for the course you're willing to continue. Choose a university that is highly ranked and meets your other requirements

Go through the requirements and deadlines properly

- Finding the requirements is the first and essential step that cannot be missed. Check the university website you're choosing, and if enough information is not available on the site, request for more information from the university
If you are unsure if your nationality is accepted for student visas in the country, visit the Government website and study councils.
Be careful about the deadlines so that you do not miss the admission and entrance exam deadlines
Discover how you can apply

- Usually, you can directly apply from the university website to submit all the documents or send them by post.

Write a motivational letter.

Many universities need a motivational letter. This letter must showcase your ability to perform in the university, your educational skills, and your accomplishments. Use clear English when writing the letter and be honest. Explain what studying at their university means to you.

Prepare for IELTS and TOEFL tests.

- If English is not your first language, you need to give an English language test. Give proper time to study for the exam and make sure that you excel in it.

Translate and authenticate your documents

- If you're applying to study a course taught in English abroad, translate your documents, including your diploma and grades, to English. An authorized authority should authenticate the translations.

Register for the entrance exam

- Some countries have an entrance exam. Check the date and time of the exam very carefully and, if possible, try doing practice tests before the final exam.

Be confident about the interview

-To qualify for the student visa, your school and university should be accredited by the country's government. Applying for a visa can be a long and complicated process. So, it is better to apply for the student visa and schedule your interview as soon as possible. It would help if you usually had a bank statement, passport, tuition fee, application form, receipt of your application form.

Plan for the costs

-It would be best if you planned for the costs and finances well. You will incur the fee for the school's entrance exam, translate documents, booking the English language test, visa application fees, and tuition fees.