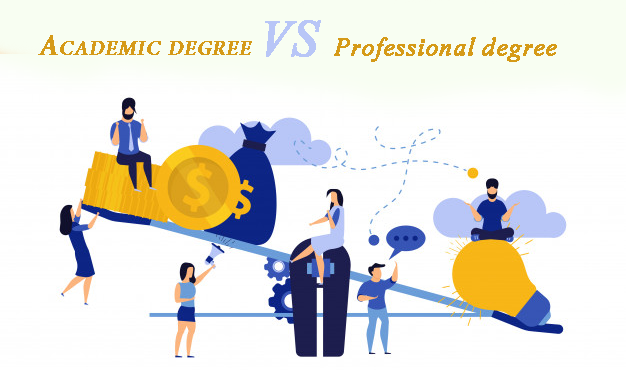 Academic degree VS Professional degree: Which one is the best after 12th?
The after-12th dilemma
People will say that you can enjoy your life once after you complete your 12th standard public examination. But the real trouble will start with the day of your results as you would have to choose the stream that will decide your life. There will be dozens of different courses that may be confusing to you. Several streams may resemble each other, and you could not find the differences. To narrow down this search, let us consider the two broad categories of higher studies, an academic degree, and a professional degree. People often confuse choosing between these two. An academic degree will be something like bachelor's degree will come under professional degrees. Let us try to answer the million-dollar question of what will be the best direction to choose after 12th among these two.
Academic degree
The name says it all. Academic degrees will be the courses designed with a specific focus on grooming you in a subject rather than making you ready for a job. Be it arts, science, or commerce, you will be studying the processes and concepts of the field instead of practical training. So, you would gain the fundamental knowledge of the subject you choose in your bachelor's degree. After that, you can choose to study for your Master's degree either in the same field or in a related field. You would not get placed in a practical job. But you can get opportunities in the streams like research and analysis, teaching, off-field jobs, and much more.
Advantages
You can have various options to divert your career
Subjects and courses will be comparatively easy with less practical exposure
Since you would be doing bachelor's and master's degrees successively, you would gain mastery in your field
Disadvantages
It will be tedious to get high-paying jobs after your bachelor's degree, and a master's degree is a must
Your practical exposure would be less
Professional courses
If you are keen on gaining practical knowledge of current technologies instead of going deep into the academic side, you can choose professional courses such as Engineering, MBBS, etc. It is almost an assurance that you will get a high-paying job if you are skilled during your completion of the bachelor's degree. However, you would have to concentrate on the practical side of the courses than theories. Also, the syllabus would be tedious compared to the academic subjects, and the duration will be more.
Assignment Help
Advantages
You will be placed with a decent salary if you have the skills
Completion of higher studies is not mandatory
Apart from book knowledge, you would gain practical exposure to solving real-life problems
Disadvantages
Your options to divert your career path will be less
It is necessary to be highly skilled in your field to succeed
Conclusion
It is up to you to choose the field of interest. But it is advisable to know the possibilities and have a futuristic view as you are making your life's most important decision